The Crookes
Live upstairs at The Bodega • 14+ event
Monday 12th December 2016
Supported by:

t.b.c.

Doors open:

at 7:00pm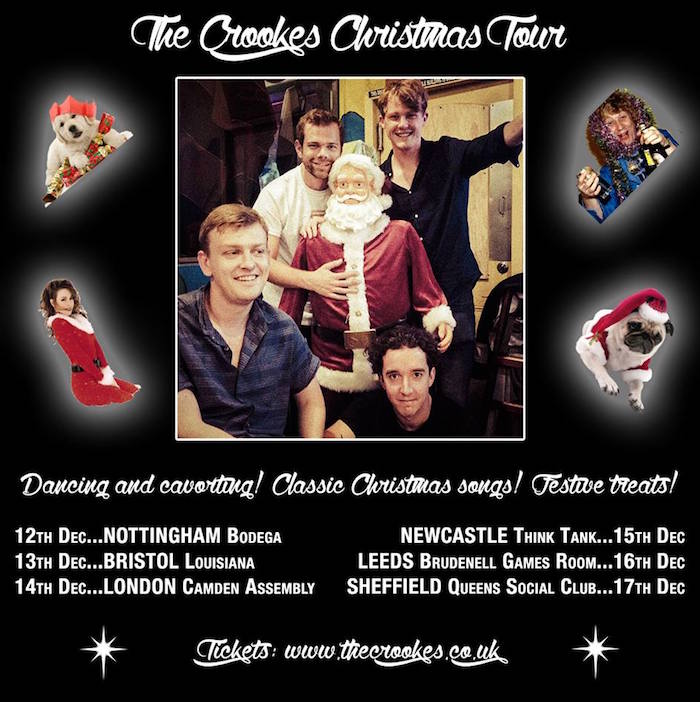 2014 sees Sheffield-based dreamers release their 3rd LP, SOAPBOX becoming the first band to release three full-length albums on Fierce Panda since indie heroes Death Cab For Cutie. Over the past four years they have also released a string of stand alone singles, one mini-album, and racked up an international gig-count that puts most other modern bands to shame, prompting Steve Lamacq to describe them as "one of the most hardworking and prolific bands of the underground."
2013 saw them on tour supporting friend and Sheffield hero Richard Hawley, showcase at SXSW in Austin, Texas (where they were spotted and signed by Modern Outsider Records) and play two critically acclaimed shows in New York, all before disappearing to Italy for two months to record in a secluded church in the Italian countryside. The result was SOAPBOX, an album that is tougher and more ferocious than anything they've previously released.
"Something has changed in us" they say. "We are no longer wide-eyed and naive, but we are still more determined than ever. The world deals blow after blow until its final blow stops you caring… but still we care more than we ever have, we are still resolute in our belief." SOAPBOX was made by hands calloused through hard work and an adherence to an old fashioned way of doing things. "The most obvious theme that runs through the entire album is the idea of The Outsider" frets guitarist and lyricist Daniel. "As a band that seems to suit us… never invited inside, but never wanting to be. I can empathise more with the madman standing on his soapbox, slowly gaining an audience by speaking with passion and honesty."
The hard work has paid off. Whilst on the road the band have built up a Cult following known as the "Bright Young Things" and are at the forefront of the nascent NEW POP movement in the UK guitar scene. This devoted fan base has translated to sold out concerts around the world including three shows in Tokyo and the main room of the legendary Paradiso club in Amsterdam as well as headlining festivals in Germany, Holland, America and Spain.
The band have recorded live Sessions on BBC Radio's 1,2,4,5 and 6, had their song "Backstreet Lovers" voted number 24 in the Single of the Year Campaign on 6Music and frequently play listed on stations throughout Europe, Asia and South America and being chosen by MTV Canada to represent emerging music from the UK.
"...a band this good are unlikely to remain obscure for long" • NME
"They are kings of romance (an important part of the New Pop brewing around the UK). There is something almost subversive about their odd mix of influences ('60s girl groups/'50s rock and roll)." • Steve Lamacq
"The potential leaders of England's smart, taut 'New-Pop' movement" • NYLON Magazine
"A heart warming antidote to the endless stream of American taste-making bands" • AU Magazine
"The Crookes' world is a charming one of snuffboxes, broken tea cups and lovers sharing a gasper under gas-lit lamp posts." • Q Magazine
plus special guest...
Comments