Fat White Family
Live in the upstairs bar • 14+ event
Monday 24th February 2014
Supported by:

Claw Marks + Cult Of Dom Keller

Doors open:

at 7:00pm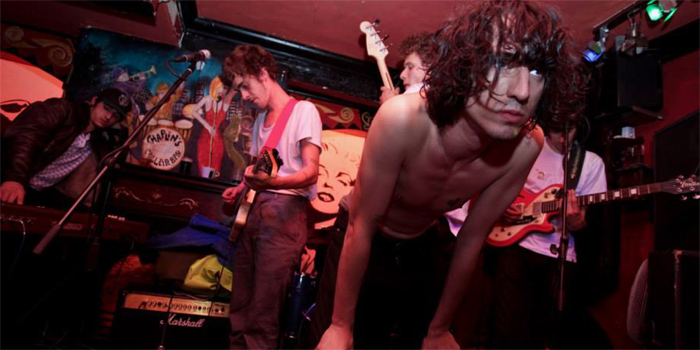 Check out their new video, double click  •  •  •  LINK HERE  •  •  •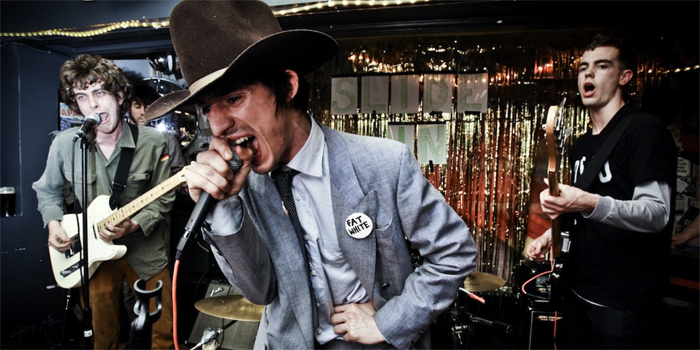 plus support: CLAW MARKS
(From their Facebook) ... Indie Band based out of Fairfax, VA. Troy Tyrer, Blake Lewis, and John Werthman shred and have fun.
If you have been drunk in a basement with a band playing you probably have heard us and hopefully liked us.
Three dudes used to hang out a lot and play in different bands with one another. Then they played a few shows and barely remember it. Now they figured out the internet and are getting nasty.
Artists We Also Like: awesome bands, cursive, minus the bear, pavement, ted leo and the pharmacists, your mother






plus: THE CULT OF DOM KELLER
A love of all sounds strange brought these four dark psych bluesmen together in the Autumn of 2008
Four humans who make strange sounds described as such by witnesses:
"These Nottingham based psychedelicists may well be the coolest thing in fuzz washed fringe parting chemical blues right at this very moment. Pissing in the same lysergic swamp as the likes of Black Angels and Brian Jonestown Massacre they craft out a deliciously hazily glazed mind blown tapestry of trip wiring third eye transcendentalism, indelibly treated with a vintage craftsmanship trademarked in the 60's they're working knowledge of the rudiments of psyche blues is second to none causing all amount of wig flipped flashbacks in our gaff given it sounds like some shimmering shade adorned slice of mojo tooting kaleidoscopia dreamed up by a studio gathering of members from Spacemen 3, My Jealous God and a few rogue Weather Prophets. Consider yourselves warned" • LOSING TODAY
"Cult of Dom Keller sound like they've fallen from the back of Ken Kesey's legendary LSD loaded magic bus, down 'n' dirty slabs of fried freak beat are sumptuously decoded within a swamp infested heavy beatnik chassis, part acid laced shade wearing psyche and part heavy stoner goo, a wasted baby laced with hazy 60's sourced keys and looping gridlocked riffs of mind expanding proportions; a blissed out frenzied fuzz laced tripping haze and bone rattling f**k you,a bludgeoned blues bastardisation spewed out by a tranced out Brian Jonestown Massacre amid an impenetrably squalling sonic wall feedback fisticuffs with a volatile 13th Floor Elevators" • LOSINGTODAY.COM
"Dom Keller hail from Nottingham and are currently stumbling in a rather aggressive haze around the country. 'We Left Our World' is a trippy soup of Stooges/Black Sabbath meets Acid Mothers Temple with the singer from Suicide showing up to mumble something occasionally. Dom Keller's mix of all out rock and psychedelic manipulations of overall sound are captivating. If Iggy Pop, Tony Iommi, Lou Reed and Kawabata Makoto went to the Mad Hatter's Tea Party, Dom Keller would be the house band!" • MOOSE FACTORY
"Fans of space-rock, early Floyd and Hawkwind in particular, should look out for Dom Keller, whose four track self-titled CD is a feast of crushing guitar riffs, effects and psychedelic madness. Their stated mission is "To document our hallucinations into sonic impressions", something they achieve!" • TERRASCOPE
Comments