The Internet + Kilo Kish
Co-headline Show • Live upstairs at The Bodega • 14+ event • early doors
Thursday 14th March 2013
Supported by:

t.b.c.

Doors open:

at 7:00pm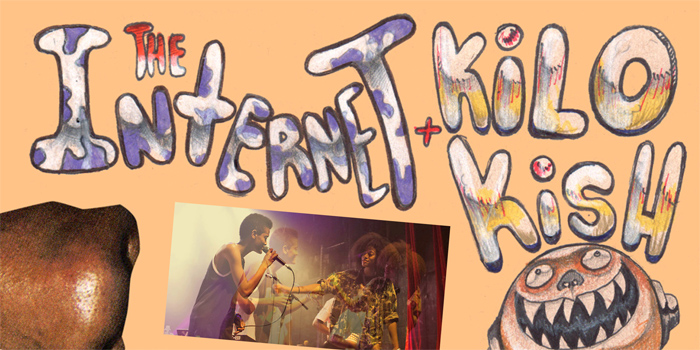 Please take note: This is a Co-headline tour
Please click the button below for more information on the ODD FUTURE website...

KILO KISH...
Twenty Two year old Lakisha Kimberly "Kish" Robinson, better known by her stage name Kilo Kish, is an American vocalist, song writer, visual artist, painter, fashion/textile designer, and model/actress.
She is part of experimental collective, KoolKatsKlub (KKK), together with Producer/Rapper Mels McCloud and Rapper/Engineer Smash Simmons.
Kish currently resides in Brooklyn.
At age 18, Kish received a partial scholarship to go to Pratt Institute, New York. While taking a year off and working multiple jobs, she began establishing relationships and cultivating her New York experience. During this time she worked at a salon, as an intern, various night-life restaurants, and modeling gigs. Kish continued her education by enrolling into Fashion Institute of Technology (for textile design) and graduated in 2012.
Releases:
Homeschool EP Released on April 2nd, 2012, Homeschool was well-received and garnered Kish attention from publications such as Complex, making their 2012 best albums list . The EP's production is handled by past collaborators such as The Internet and Jet Age's Hal Williams who also provides guest vocals on the project. On July 31 2012, Kish released "Watergun" (via Soundcloud), a song produced by The Internet.
Navy On September 17, 2012, "Navy" was released on The Blue Rider record label. The music video for "Navy", as self-directed by Kish with Ben Rayner, premiered on The Fader the same day. This release also contains a remix of "Navy" by MeLo-X.  • Wikipedia
THE INTERNET... (their Wikipedia entry)
The Internet is a trip hop duo consisting of DJ, singer and producer Syd tha Kyd and producer Matt Martians of OFWGKTA.
The Internet was formed in late 2011 by OFWGKTA members Syd Tha Kyd and Matt Martians.
Their debut album, Purple Naked Ladies, was released on December 20, 2011 to mixed reception. It will be the first physical release on Odd Future's own record label Odd Future Records, with physical copies coming on January 31, 2012.
So far, 3 singles have been released in promotion for the album, "Love Song -1", "They Say", which features Tay Walker, and "Cocaine", which features Left Brain. "They Say" was previously released on the compilation album 12 Odd Future Songs. The Internet has a song included on the Odd Future album The Odd Future Tape Vol. 2. On November 6, 2012, Odd Future released the first song from The Internet's upcoming EP "Feel Good" which is due out in December. The song is called "Give It Time" and features Incubus guitarist Mike Einziger playing guitar and co-producing.
Comments