Club Nights
Undisputed king of the crowd pleaser
EVERY FRIDAY upstairs & downstairs occupying the whole building
• 11pm - 3am
• With a selection of drinks offers available all night
• Four hours of pure POP MUSIC on two floors, with two priest DJ's and a confessional booth!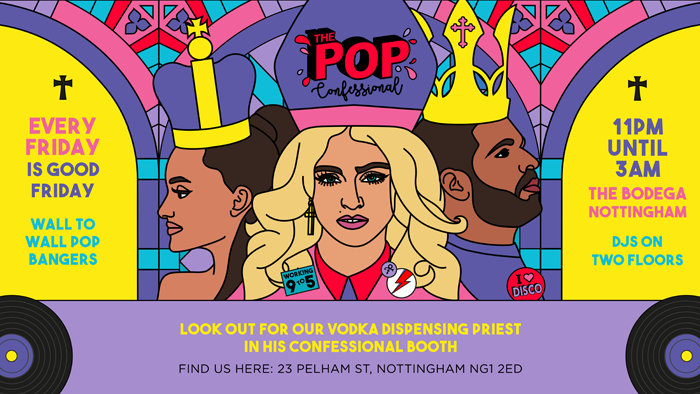 Friday nights have never been the same since The Pop Confessional opened up it's doors to the singalong-loving masses, it's widely loved by locals and students alike and the only place to party if you like your pleasures guilty and with a bit of quality. Expect wall to wall pop music from all eras on two floors, questionable dance moves, and a free vodka dispensing confessional booth for those who have been particularly naughty in the week!
Bringing together pop classics and general singalong-y goodness from all eras and whilst throwing free vodka shots at you like the pop possessed Pope.
The Reverend Car-Bootleg preaches his sermon of only the biggest, best and most spectacular tracks to consistently packed out and dedicated congregations – for many it's the only place to be on a Friday in the city centre.
Downstairs DJs are on rotation so there's always something a little different and you can pretty much guarantee someone's gonna be packing your request if you make it a classic!
The Pop Confessional is ideal for parties as there won't be any hope of looking cool whatsoever and it's awesome music everyone knows. It's also free entry for those in fancy dress, so a great destination if you fancy going a bit mental and dressing as an obscure film character/celebrity/animal of your choice for the night. We especially like bears.
If you haven't tugged on the Rev's robes begging in vain for your favourite S Club tune in drunken delusion (only the finest in pop will do), sang your heart out to Van Halen in a genuine spasm of end-of-night emotion or found yourself humming Jackson 5 relentlessly on your Saturday shop with no recollection of how it got in your head then you probably haven't been… A real Nottingham favourite and one of the Bodega's most popular nights.
Get down early (11pm) if you want to be sure of getting in or check into the Facebook page for how to get guaranteed cheaper entry all night.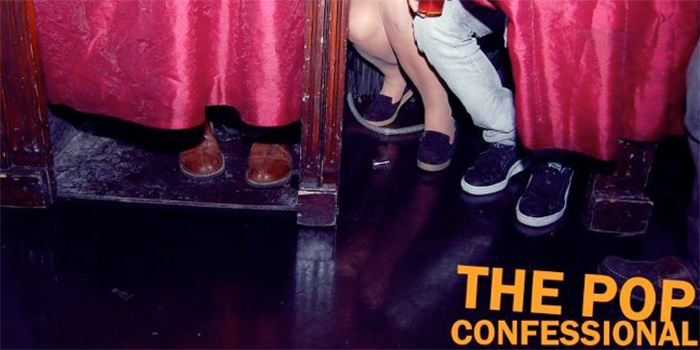 POP in all it's myriad forms...
From the fifties to the (*almost) present day.
Plus the Confessional Booth.
Come spill whatever beans you would like (real or imaginary), to the sympathetic ear of 'Father' Paul.
In return he will absolve you of all sin by giving you a FREE vodka shot.
The drinks offers for the evening:
Carlsberg Export Cans • £2.50
Somersby Cans • £2.70
Jägerbombs • £2.50
Single House Spirit & Mixer • £3.00
Double House Spirit & Mixer • £4.00
Tequila and Sambuca Shots • £2.00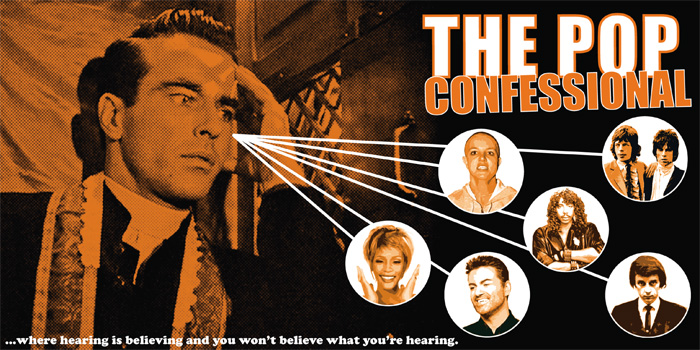 ...and here's the sort of thing we are talking about. Big tunes at THE POP CONFESSIONAL...
We are told by the powers that be, that we can't have too many embedded videos in this section, so here are some links to more POP CONFESSIONAL party bangers...
PAUL SIMON - Call Me Al
TOTO - Africa
RICK JAMES - Give It To Me Baby
FANCY - Slice Me Nice
HALL & OATES - You Make My Dreams Come True
VAN MORRISON - Brown Eyed Girl
GEORGE HARRISON - I Got My Mind Set On You
JAMES BROWN - I Got You
BOBBY FULLER FOUR - I Fought The Law
R. KELLY & PUBLIC ANNOUNCEMENT - She's Got The Vibe
SYLVESTER - (You Make Me Feel) Mighty Real
SHEILA B. DEVOTION - Spacer
HUMAN LEAGUE - Don't You Want Me Baby
DIVINYLS - I Touch Myself
* We try to avoid playing anything that is currently in the charts.
"Let's face it - most of it's rubbish** and it's is more than adequately covered by other nights and hundreds of other venues all over Nottingham." - The Rev.
** "Yeah I know... most of what I play at this night is rubbish. ...But it's OLD rubbish!"
Comments